Consumers most often prefer purchasing goods and services from recognizable names.  They know that certain standards of quality and service are maintained by brands they know.
Purchasing a franchise just makes sense.  And here's why …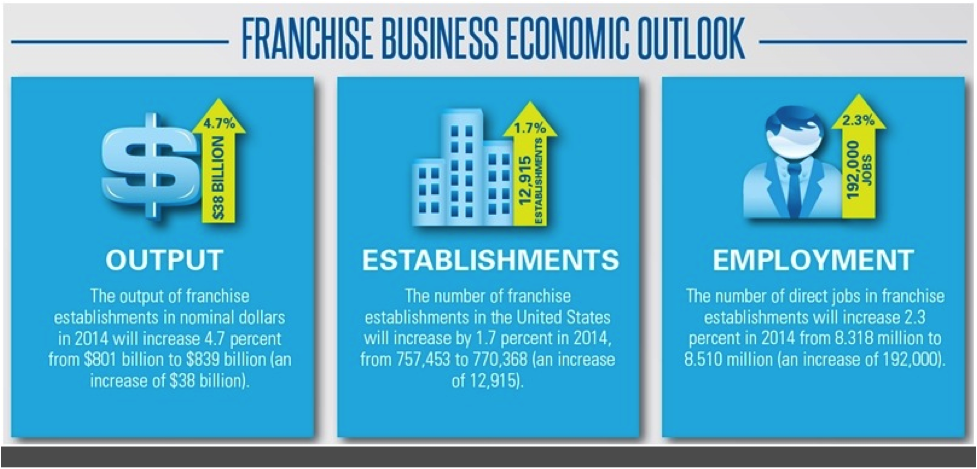 Risk is minimized.
During a 26-year study conducted by the United States Department of Commerce, less than 5% of franchised businesses were closed each year.
The U.S. Chamber of Commerce, in a 1999 study, found that 86% of franchises opened within the last five years were still under the same ownership with 97% still in business.
Mistakes have already been made by someone else.
Purchasing a franchise offers buyers years of business experience.  They benefit from someone else has going through the headaches and frustrations of seeing what works and what doesn't.  Through the initial franchise fee they are investing in the insight and knowledge to springboard into successful entrepreneurship.
Training and support.
Have a question about the best type of advertising?  The franchisor has the answer.  Need to know how many employees to staff during busy hours? How about slow times?  The franchisor has the answer.  Never purchased commercial equipment before? Don't worry; the franchisor will guide you in the right direction.  Basically, any question or concern can be answered by the franchisor.
Purchasing power.
Let's assume just for a second that you are in contact with a supplier for your independent start-up business.  You have just received a price quote for supplies for one location.  Now, think about what would happen to that price if you had two locations – it would decrease.  75 or 100+ locations? That's a level of purchasing power, acquired through franchising, that an independent business will never achieve.
Broader scope of marketing and brand recognition.
Again, put yourself in the position of the independent business owner.  You want to rent a billboard along a busy interstate but the cost is simply too much.  With ten other people contributing to that cost, your share is less than 10% of the total investment, but everyone benefits 100%.  This level of advertising drives consumer loyalty and brand awareness.